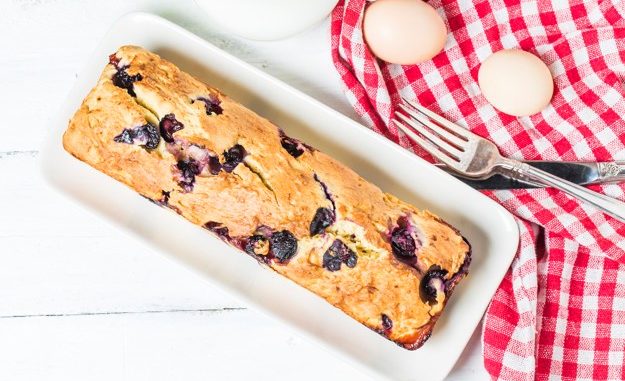 Prep Time    15 min        Cooking time   50 min         Total time   65 min
Servings   16
 INGREDIENTS
8 oz. mozzarella cheese shredded
4 egg
1/2 cup almond flour
1 cup cream cheese
1/2 cup coconut flour
1 tsp vanilla
1 tsp baking powder2 tsp. stevia
1 tsp vanilla
2 tbsps. melted coconut oil
I cup blueberries
 DIRECTIONS
Preheat oven to 350.
Add cheese, cream cheese, egg, almond flour, coconut flour vanilla, stevia, butter, and baking powder in a food processor and mix well.
Carefully fold blueberries in the mixture.
Pour the cake batter in a greased loaf pan.
Bake cake for about 50-60 minutes at 180oC in the oven until puffed up and golden brown.
Once baked, remove from the oven and slice it.
Slice it and serve.
NUTRITIONAL INFORMATION
Amount per serving 62 g

Total Calories

174 kcal

Fats

14.54 g

Protein

7.16 g

Net Carbs

1.27 g

Fiber

1  g

Starch

0.12 g
Protein: 17% 29 kcal
Fat: 74% 127 kcal
Carbohydrates: 10% 17 kcal